Classic Cuvée
Craftsmanship, precision, and attention to detail are the keys to crafting fine wine. If you take the Grand Cru dreams of a Dutch owner, an innovative winemaker, and a stellar consultant, and put them all together under the roof of Domaine de la Jasse, you'll get a classic cuvée made of 100% Cabernet Sauvignon from the Pays D'Oc.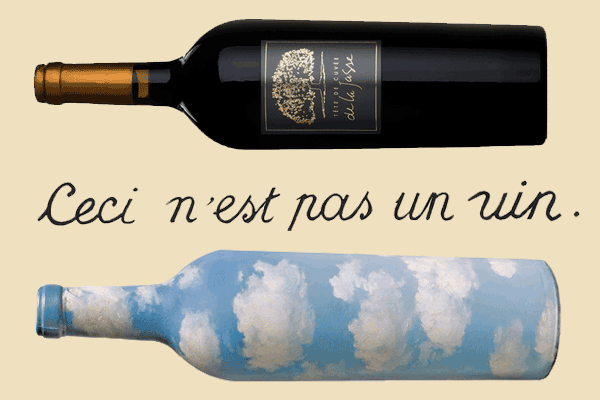 The painter René Magritte spent a lot of time and effort in coming up with catchy titles for his paintings. There were days he was not satisfied and changed a title several times. Magritte's genius lies in linking images to the word. This also occurs in the wine world. When the wine label becomes part of a "Gesamtkunstwerk" called 'Tête de Cuvée' produced by Domaine de La Jasse.
Dreaming of Cabernet Sauvignon
The story behind 'Tête de Cuvée' 2016 starts with Hans Walraven, of the well-known Dutch wine merchant family Walraven. Hans has a dream. He dreams of an 'everyday Grand Cru' in the style of a great Bordeaux from Pauillac. The key is provided by the predominant grape of Bordeaux: Cabernet Sauvignon.
In the early 1990s, Walraven's dream comes true when he buys Domaine de la Jasse in the Pays D'Oc from the Beaujard family. His idea is to produce at La Jasse the highest possible quality at small prices, or in marketing terms imminent value for money. But now the real miracle: the composition of the mostly limestone soils, the local micro-climate, everything the French call "terroir", is perfect at La Jasse for a classic Cabernet Sauvignon.

It all adds up
The highly talented winemaker Bruno Le Breton gets appointed as the winemaker. Bruno immediately introduces an environmentally friendly way of working on the Domaine, with respect for nature. In 2008 Hans Walraven retires and sells Domaine de la Jasse to Bruno.
In 2009 Bruno hires one of France's most influential winemakers Patrick Léon († 2018). Patrick's long winemaking career includes 20 years as winemaker at Château Mouton-Rothschild, technical director at Château Lascombes, owner of Château Les Trois Croix, winemaking at Almaviva in Chile, and at Opus One with Robert Mondavi. It proves to be another winning streak. 
Patrick Léon's involvement, open-minded approach, and tremendous technical skill together with the innovative techniques of Bruno le Breton create an invaluable and solid base for exceptionally high-quality wines at La Jasse. It also allows Bruno and his team to concentrate on producing special cuvées, such as 'Tête de Cuvée' in 2016, the 'everyday Grand Cru'. The 2016 is admittedly one of Bruno's greatest accomplishments.

'Tête de Cuvée' starts with an intensely perfumed nose of violets, lavender and rosemary, followed by vanilla and a beautiful bouquet of black fruit, such as ripe black currants and blackberries. There are also ageing aromas, such as mocha and drying tobacco leaves. The first sip of wine reveals a full bodied and powerful wine. Silky texture, with a good acidity or fraîcheur and noticeable rich mouthfeel. Fine flavors of black currants, ripe black cherries and a hint of roasted almonds, also garrigue and vanilla notes. The tannins are present, but well integrated. Softer than a Bordeaux, but excellent quality with a ripe fruit, spicy, sophistication, and a long finish. 2016 was an excellent vintage and has an ageing potential till 2026.
Not your average wine
Even those who have little interest in wine – and those people exist – such a person will also notice that this
wine is different. The wonderful thing is that Domaine de la Jasse 'Tête de Cuvée' 2016 pairs perfectly with food, especially with Mediterranean cuisine.
The wines of  Domaine de la Jasse find their origin in the heart of the Pays D'Oc, in Combaillaux, about 15 km north of Montpellier. The vineyards are located in between two Languedoc crus: Pic Saint-Loup and Les Terrasses du Larzac. Cabernet-Sauvignon (making up 70% of the vineyards), is the king grape variety or 'cépage roi' of the estate, but not an allowed grape variety under the AOC rules.
It suits winemaker Le Breton well. He has a unique perspective on the meaning of 'terroir' within the context of the appellation system. Winemaking is more than just following the local appellation's regulations. Instead, he prefers the freedom of the less stringent rules of the IGP Vin de Pays d'Oc. When wines are not made from  the permitted grapes Grenache, Mourvèdre, Syrah Carignan, and Cinsault, they almost automatically fall under the Pays d'Oc Indication Géographique Protégée (IGP).

Every disadvantage can have an advantage too
Yet, the high quality and diversity of the terroirs make the Pays D'Oc one of the most dynamic wine regions of Southern France. Within the Pays d'Oc IGP, winemakers also have the luxury of working with no fewer than 58 different grape varieties. Yet, all IGP grapes must be cultivated within the boundaries of the Pays D'Oc. And, before the IGP certification, the wines are tasted for quality, typicity, and traceability.*
Blending is allowed within the Pays D'Oc rules, but many of the best (and best known) quality wines in the IGP Pays D'Oc are "vins de cépage", wines made from one grape variety. La Jasse's 'Tête de Cuvée'  is one of them.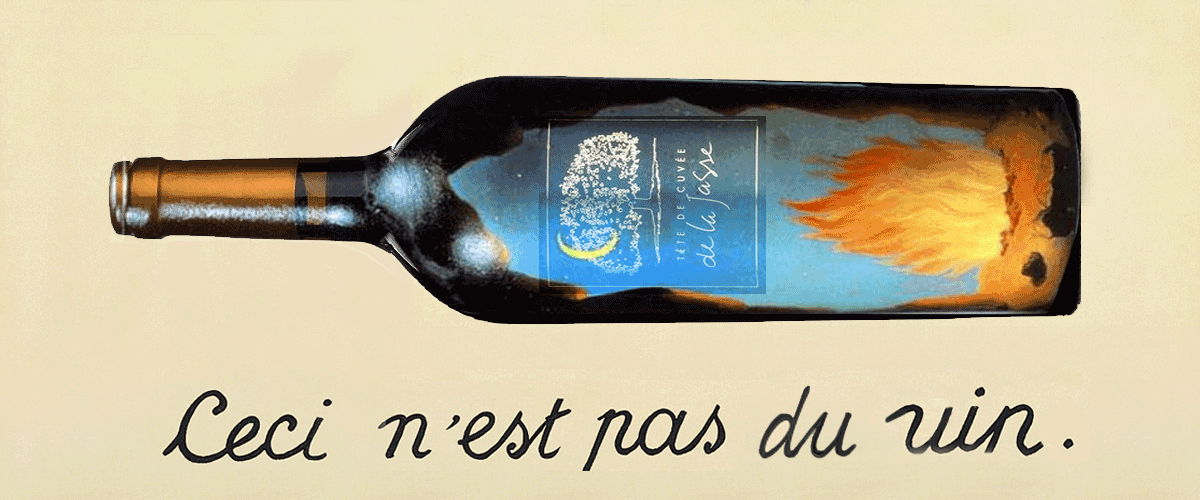 The simple depiction of the old Plane tree on the label is really part of the whole artwork.

After all, anyone who has ever been to the South of France knows them, rows of Plane trees are a common sight.

La Jasse means shelter in the local Occitan language. The image is so specific that the mighty plane tree becomes the trademark and logo of La Jasse. For more than 110 years, sheep, and people, have found shelter and shelter under the imposing Plane tree of the domain. This gives a feeling of respect, not only for the Plane tree, but especially for a wine that is made with so much loving craftsmanship, precision and attention to detail. Ceci n'est pas un vin ordinaire, c'est un vin classique, c'est un cru de tous les jours, c'est 'Tête de Cuvée' 2016.




* If you ever get the chance to participate in a taste panel, take that chance with both hands.

In my panel experience, we could taste typicity,

 the influence of terroir on the style of the wine, but tasted blind, it was quite difficult to trace a wine back to its original soils, due to the enormous diversity of soils in the Pays D'Oc.