Starlicious
Rond de Tafel or around the table is a new, temporary fine-dining concept at the Gashouder Amsterdam. From July 1 to August 31, 2020, five Michelin star chefs are preparing their signature dishes in the 'Gashouder'. 
"Foodies" are wonderfully adapt to find the next must-go event, and like to gather in groups of like to like. Especially after the 4 months of lockdown during Covid-19 it was time for a new initiative. Plans were made and on July first the largest one and a half meter restaurant – starring 5 Michelin chefs in 2 months- opened in the 'Gashouder' in Amsterdam under the name 'Rond de Tafel' or around the table 2020.

The concept
From July 1 to August 31, 2020, top chefs Erik van Loo (Parkheuvel), Richard van Oostenbrugge (212), Egon van Hoof (Mos), Soenil Bahadoer (De Lindehof ) and Wilco Berends (De Nederlanden) will each serve their designated menu for 2 weeks. You can choose from a 4-course lunch (55.00) or a 5-course dinner (69.50). Depending on the menu and in consultation with the sommelier, the chef chooses the matching wines from a specific country. You can choose an AOC, Premier Cru, and Grand Cru wine arrangement. Prices for 4 matching wine-food glasses vary between 39.50, 60, and 95.00 euros per person.

Star appeal 
The moment I entered I found myself entranced with the enchanting atmosphere at the 'Gashouder', the former gas storage building at the 'Westergasfabriek', now a cultural park in Amsterdam. The twinkling lights full of sparkling colors leading up to the huge chandelier in the middle reinforce the fairytale-like impact. I was genuinely impressed. Despite the size of the location, the entourage and setting add to the sense of an alluring night out. I can only suspect that other "foodies" would have liked to join us during the kick-off dinner on July 1 under the guiding light of 2* Michelin chef Erik de Loo.
The menu of Erik van Loo 
Erik de Loo started the dinner with a fresh amuse of green cucumber gazpacho with herring. Accompanied by a glass of Domdechant Werner Guts-Riesling trocken. Followed by different versions of Westland's tomato, buttermilk, and Basilico, which was served with the Wittmann 100 Hügel Spätburgunder rosé from the Rheinhessen. A bit of a mistake as it turned out. The rosé had to be paired with the next dish. As another starter, Erik served crab with grapefruit, mint, kohlrabi, and white miso. 
My husband loved the Bresse chicken 1992 is on the menu. The dish consists of poulet de Bresse, mushrooms, truffle, and langoustine tails. Then there is ravioli, a baked langoustine, underscored by a delicious lobster cream sauce. As I don't like chicken, the chicken was replaced by langoustine on my plate. This well-known signature dish by Erik is truly a divine dish. I liked the pairing with the biologically produced wine of Weingut Eymann's Ménage à trois, Toreye, made of Chardonnay, Weißburgunder, and Grauburgunder. Delicate and elegant on the palate it gave a pleasant tension between the dish and wine.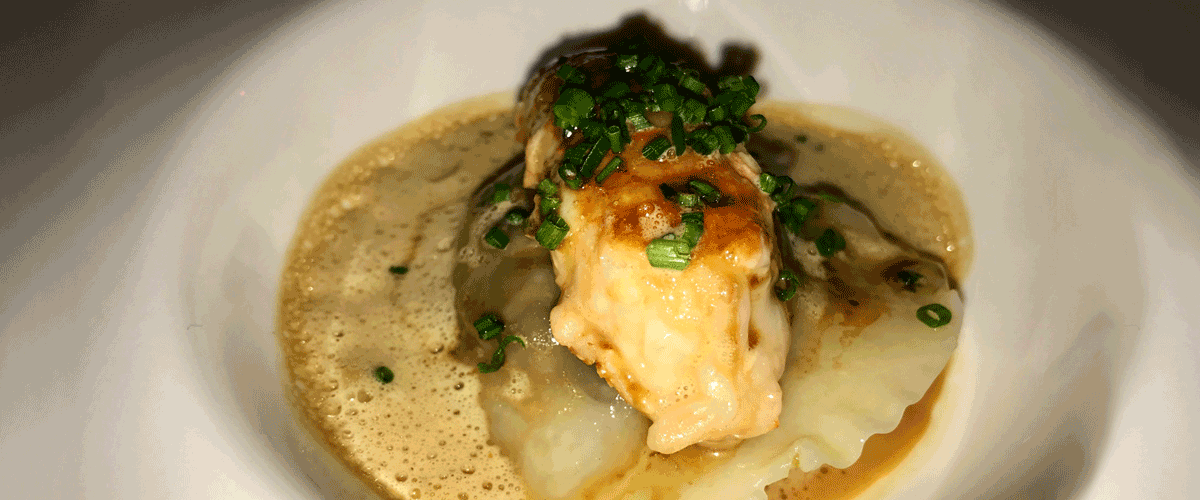 The finale
Can this dish be surpassed? Yes, there was a good, thoughtful next. The super tender veal tenderloin came served with gnocchi of Parmesan, some green asparagus, and a deliciously creamy, umami sauce. The beautiful Pinot Noir 2017 from Weingut Franz Keller is a delicate Pinot Noir, with finesse and subtle acidity. Why call it Pinot Noir and not a German Spätburgunder? Franz Keller calls it Pinot Noir because the Pinot Noir clones they planted in 1999 and 2003 came straight from Burgundy. 
A light strawberry savarin with vanilla ice cream is served for dessert. There is a lovely lightness to this dish, well paired with generous honey, apricot, crisp Beerenausleese made by Moselland from Huxelrebe and Bacchus in Rheinhessen.

Rond de tafel
Erik Van Loo's style of cooking is not always easy to fathom. Dishes may seem straightforward on first sight, but there are some intricate flavours here. More multi-layered and complex than you might think at first taste. You notice that van Loo is classically trained, nonetheless manages to give each dish his own twist. That's what great chefs do. Let's see what a follow-up visit to Parkheuvel in Rotterdam has to offer.
Most of the timeslots of Erik van Loo (and other chefs for that matter) during De Ronde Tafel are all fully booked, but you can always try to reserve a table via this link: Rond de tafel