Potential past
Cristían Carrasco, winemaker of Torres Chile researches Chile's ancestral grape varieties to understand their oenological potential and their resistance to heat and drought. The future use of these varieties might be one of the answers to climate change.
On a cold Tuesday evening, Winejus went to a unique masterclass under the guidance of Cristían Carrasco, winemaker of Torres Chile, Cees van Casteren MW and Torres Spain. The topic was a very interesting one, reviving grape varieties of the past.  Alongside information about important wine developments in Chile over the last 10 years and how Torres Chile responds to existing and new wine challenges.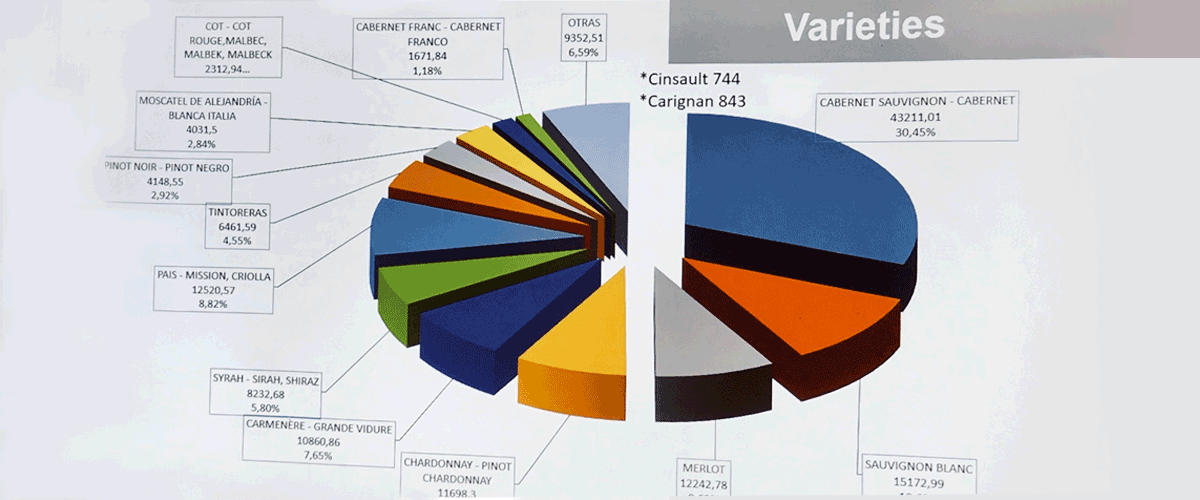 Once you visited Chile you will never forget the snow-capped peaks of the Andes
The towering Andes make winemaking in Chile unique from the rest of the world. It not only protects Chile from pests and disease but also saved the region from Phylloxera, the root eating louse that almost eliminated the European wine industry in the late 19th century. It is also thanks to the Andes that Chile still owns vineyards with ancestral vines, called heritage stocks, with often more than one hundred years of antiquity.
A staunch advocate of traditional vineyards
Spanish wine company Torres went to Chile in 1979, essentially being Chile's first foreign wine company. When 5th generation Miguel Torres Maczassek moved to the Curicó Valley 30 years later to solve existing management issues, one might think that he had enough on his plate. But no, Miguel focused in on the history of winemaking in Chile to envision a plan for the future. He wanted to find old vines to make extraordinary wines that cannot be made in the same way elsewhere. Returning to the past and reviving varieties that prospered so well in Chilean soils, is also an important issue in the light of climate change. Torres Maczassek hoped to find grapes that are significantly resistant to both heat and drought. Central Chile is in the midst of what scientists have called a megadrought, an uninterrupted period of dry years since 2010. 
An ancestral variety
that prospered well in Chilean soils
Looking for old vines of Cinsault, Carignan, Muscat, and the under-appreciated País, Torres Maczassek fell in love with ancient bush-vine plantings of País. The País grape, brought to Chile by Spanish Catholic missionaries -hence the name Mission grape-, was for centuries Chile's the most planted variety. Until recently País grapes were largely used for blending or considered only suitable for producing inexpensive light-bodied, rustic red table wine. 
Vine archaeology
When Miguel Torres received a government grant to research what could be done with the circa 15,000 ha of these old, often-forgotten vines grown by 8,000 smallholders, he hired young Chilean winemaker Cristian Carrasco Beghelli. Cristian collected samples from different vineyards in Maule in order to identify different varieties. He analyzed the shoots, new leaves, mature leaves, canes, grapes, as well as DNA. "Torres hired me to do vine archaeology. To research pre-phylloxera vines. The goal was to identify the best País vines or clones and to make a sellable wine." 
The renaissance of Chile's former most planted variety
"If you see these old vineyards there is nothing like it in the world. We in the wine industry cannot ignore País, as the grape represents an important part of Chile's unique enological identity and history. In 2006 still 15,000 ha was planted with País, in 2012 only 5,000. País was at risk of disappearing."
Through the work of Torres and winemakers like Cristian Carrasco Beghelli, the tide for País has turned. The Torres revival project has put two new País wines on the shelves: a Reserva de Pueblo, a Beaujolais-style light red, and Estelado, a sparkling País rosé. Estelado is the first sparkling wine ever made of País in Chile. 
We want to put Chile in our wines
In the end, it all comes down to the passion and work of the winemaker(s) -plus the companies they represent or own- that Chile's oldest and long-forgotten variety País witnessed a renaissance. "We want to put terroir in our wines as well as rescue Chile's enological history," Cristian explains. It is almost if Miguel Torres Maczassek is talking to us too. Miguel strives to revive the garden of ancestral grape varieties to help the wine industry cope with climate change. And, Torres to work with varieties that show enological potential, that best express a particular place.
Santa Digna Estelado Sparkling Rosé
Pale rose color, with delicate and persistent bubbles. In the aroma, attractive notes of hibiscus flower, fruit, raspberries, a mild citrus notes. On the palate, fresh, lively, soft, some sweetness and a finely tuned fruit and some spices in the background. Made following the traditional method, nine months lees-ageing in the bottle.
Miguel Torres, La Causa País, 2016
Ruby red color, with lots of red fruit on the nose, hints of spice, quite intense.  Wine is round, firm, plenty fruits such as cherries, red plums, red currants, and forest fruits compote plus some herbal notes. The texture is smooth and savoury, the finish long and spicy.
A thank you to Torres Spain and Chile, and their Dutch importer Walraven Sax, for organising this special presentation at the College Hotel Amsterdam.
#Torres #WalravenSax